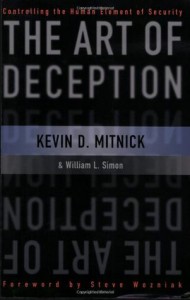 I totally enjoyed reading this book. It is the first time in a college class that I have enjoyed the text book.

I had this on my DNF shelf, which is totally misleading. I didn't finish it because I ran out of time that year. I have the book sitting on my bookshelf, waiting to be continued.

This book is about how to engineer answers out of people to hack into what you want. It is creepy how easy it is to get the answers the hackers want. This story was pretty cool!

I can't wait until I go back and finish it.
Originally posted in 2012 on GR. As of today (Feb 2014) I have not read any more of it, but I really want to. Moving this review over makes me want to go grab it now. Kevin Mitnick is an interesting person and and interesting story teller. Or teller like it is... Anyway this is a good one if you have ever been interested in hacking or social engineering.