I really like reading challenges. I have always thought of them as a way to make reading more social. In fact, my original reading blog was titled because of my competitiveness and the fact that I read a lot.
But I have a problem. I sign up for too many, or get overwhelmed by all the options out there. I used to do on GR the Season Reading Challenge back like 3 or 4 years ago, but I sort of grew out of that. So I thought I'd ask the crowd.
What if any are your favorite reading challenges?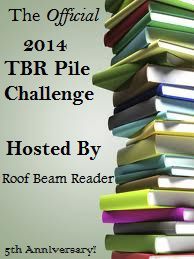 My personal favorite that I have participated in (but never completed damn it all) for.. oh wow! 2014 is the fourth year I've tried this one... It's RoofBeamReader's TBR Pile Challenge.
The rules are pretty simple, read 12 books in 12 months that currently reside on your TBR pile. You get to pick two alternates for DNFs. The catch is they have to have been on that pile for over a year! Adam goes through all the details!
It's really a great way to get to all of those books you keep saying you'll read but never do. I am going to be going through my list, looking at last years (and the years before that >.<) to create my new possibly doable list! Here is my last year's list in case anyone is wondering. And here was a Top Ten Tuesday where I in general resolved to read some books, and I actually did read some of those!
I'll do a nice summary post later of this challenge, post my list for next year, and sum up the ONE other challenge I did (that I actually rocked out comparably), the Stacking the Series Challenge, where the goal (or at least mine) was make some headway on series I'd started.
But yes! Tell me some good challenges to look into. Share the love and I can bask in creating lists of things to read that I never actually read. :)